E-mail Gift Certificates
---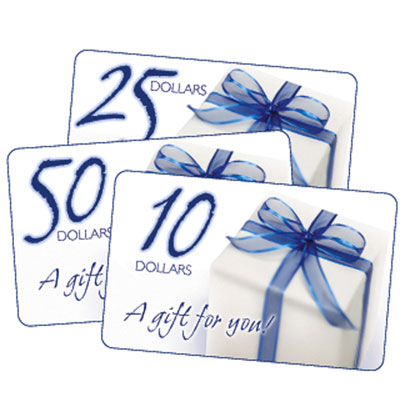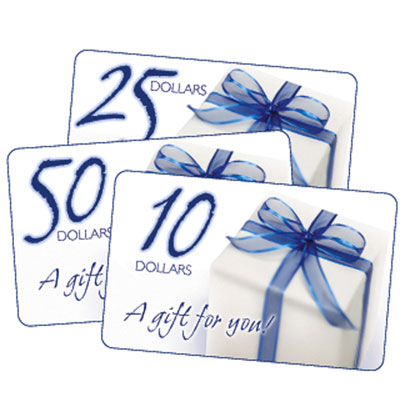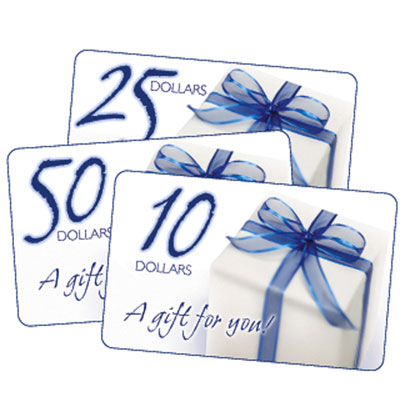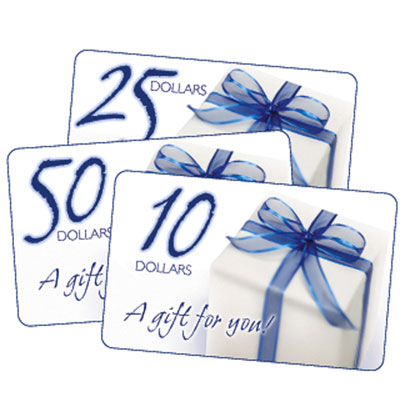 ---
How the ATS/PayPal Gift Certificate Works
The ATS/PayPal gift certificate is one of the first automatic gift certificates of its type.
It will save you money, time, energy, and ensure more immediate delivery of your gift! 
Rather than a physical card or certificate, the ATS/PayPal gift certificate can be emailed
immediately to the recipient or printed and forwarded from your location. 
It also comes with no expiration period or maintenance fees ensuring that it will never
lose its value! 
Benefits:
*Can be delivered immediately via email ensuring your gift is on time even if the
special occasion is today!
*Delivery via email or directly from your location eliminates extra mailing costs!
*Since you don't have to wait on a certificate to be mailed to you and forwarded
by you, you are also saved time and energy!
What the Recipient Receives:
If you select delivery via email, the recipient receives a user friendly, step by
step email that tells them how to use their gift as depicted below.
Give the gift certificate that saves you time, money, worry, extra effort and expense
and never loses its value. 
This is a sample of the Gift Certificate Order Screen
---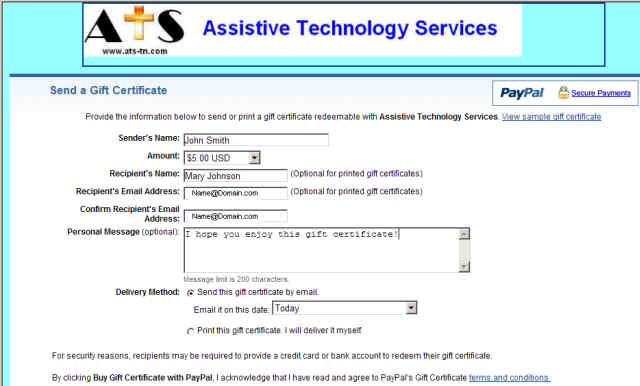 This is a sample of what the recipient will see in their e-mail
---
| | |
| --- | --- |
| You have received a gift certificate! | |
You can use your gift certificate to purchase merchandise and services from Assistive Technology Services.
Amount: $5.00 USD

From:

John Smith

Note from the buyer:

I hope you enjoy this gift certificate!

 

Redemption Code  :
HRKV6YUSJFXXPRAN 

Issue Date  :


January 1, 2005 

How to redeem your gift certificate:

Shop at https://www.assistivetechnologyservices.com/shop.html to find an item or service you want to purchase with your gift certificate.
During checkout, select PayPal as your payment option and log in to your account. If you do not have a PayPal account, click or copy https://www.paypal.com/us/cgi-bin/?cmd=_registration-run to Sign Up now.
When prompted, enter your redemption code

GRJV6YUSCFXXPWAN

and follow the last steps to redeem your gift certificate.

Important Terms

Gift certificates have no cash value, cannot be resold. You can redeem your gift certificate for merchandise from the specified merchant when you use PayPal. For security reasons, you may be required to verify your identity using a credit card.
Multiple gift certificates can be redeemed for a single purchase as long as they are all denominated in the same currency. Unused balances may be applied to other Assistive Technology Services purchases.
Gift certificates do not expire and do not accrue maintenance fees.
The merchant nor PayPal are responsible for lost or stolen gift certificates.
---