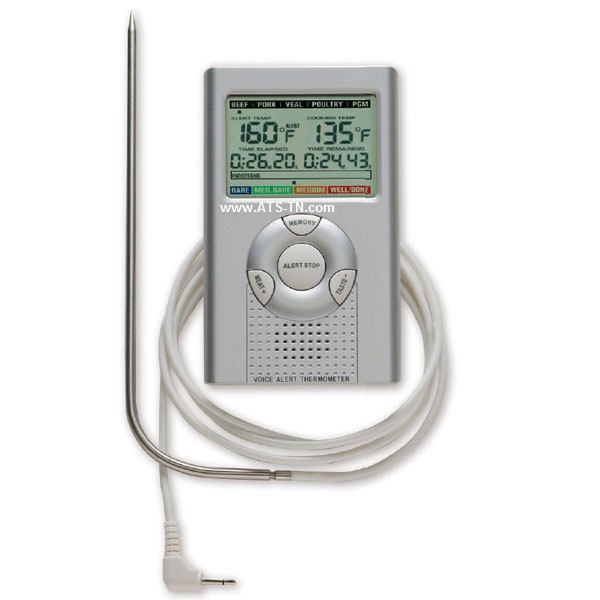 "We saw this device, or one very like it, on Alton Brown's cooking show, and it looked so simple and direct that we decided to get one (the oven in our new home is totally unreliable temperature-wise). This probe thermometer works very well, and has both bell and voice alerts to advise you of the progress of your dish. The voice alerts are funny, because it tells you, every few minutes, how much longer until your desired temperature is reached, and if you don't take the probe out as soon as it is done, it will tell you that you have left it in. Love it! "
-D. Harford
- - -
"It does just what it says it will do. I use it for all turkeys, roasts, ribs, and hams. I have never had a problem with its functionality. Very happy with the performance and with the qauality of the food prepared using it "
-James A Corsner
-Monitor the meat cooking cooking in your oven and receive voice alerts when it's ready
-Includes special "Don't forget to baste" alert
-Perfect for cooking poultry
-Displays both target and actual temperatures, elapsed time and remaining time
-Presets for the doneness of beef, pork, veal and poultry
-Powered by 3 AAA batteries (included)
Price: $34.97 (U.S.orders)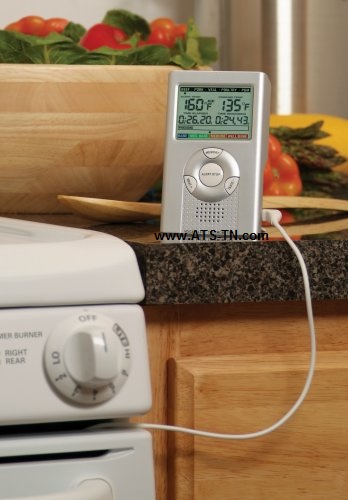 ---
With the Talking Thermometer-you don't even have to be in the same room to know your food is done. With its easy-to-read display, you will know the target temperature and actual temperature at the same time. When your food is done, you have the choice of hearing, "Your food is done", a beeping alert, or no alert at all. It even features a special, "Don't forget to baste" alert-perfect for your poultry dinners. The thermometer features reminder alerts for 30, 20, 10 and 5 minutes and has presets for the doneness of beef, pork, veal and poultry. You can also program any taste and temperature you prefer-this thermometer has it all. Choose F or C for measurement, and with the 48-inch probe-you're assured more accuracy than ever before.
The Talking Thermometer actually calculates, displays, and verbally announces time remaining until the food is done. Just choose a type of meat, and a doneness level, and your set to enjoy your food! Your thermometer will anticipate when your food will be cooked to your desired temperature and will display it in a bar graph, in a numerical display and, at preset intervals, it will be announced. There is no need to worry about under or overcooked foods again.



Features:
•Preset USDA doneness ranges for 4 meat types (Beef, Pork, Veal, & Poultry) plus PGM (PROGRAM)
•Set your own specific doneness ranges for meat type.
•Easy to set display shows "target" and "actual" temps.
•Talking alert tells you how much time is left before meat is done in either English or French
•Choose voice alert, beep alert, or no alert
•Reminder alerts at 30, 20, 10 and 5 minutes.
•Monitors anticipated cooking time, elapsed cooking time and actual cooking temperature.
•Select between Celsius or Fahrenheit
•Powered by 3 AAA batteries (included)
•Cleaning & Care: Wipes Clean with Damp Cloth
•Silicone probe wire rated to 500 degrees Fahrenheit

* One year factory warranty
* If Opened, This Is A Non-Returnable Item Due To Health Department Regulations