300 Foot Range Talking Portable
Oven Thermometer 
---
---
Item # atsTOT300

ATS again helping you live independently!

One Year Limited Manufacturer's Warranty

Want to walk away from the oven while dinner is cooking?
Be notified "dinner is done" while helping children with homework?
Want to walk away from the grill to mingle with family and guests?



Would you like to have more time OUT of the kitchen or AWAY from the grill? Now you can just walk away, 330 feet away to be exact and still be informed when "dinner is done!" With this portable talking thermometer, you have a digital LCD screen with remote wireless probe to identify temperature / readiness of meat that allows you to walk away from the oven or grill.

Various languages allow for use in other countries or even send as a gift!

Low to high temperature range making it perfect for specific cooking temps and recipes!

Choose your entree - one or more! You have 8 entree choices and programs for each one desired!

4 doneness selections insuring you never have undercooked or overcooked meat again thus saving you time and effort of having to recook in an attempt to save the meat or throw away because it was too done!

In case you are away in another room or outside, you have verbal and audio alerts notifying you completion of meat helping save you time without having to stand over and constantly check the meat or even set timers for!

SELECT ITEM:



---

FEATURES:
* Digital LCD screen with remote wireless probe to identify temperature/readiness of meat
* Speaks 5 languages with corresponding display (English, Spanish, German, French, Danish)
* Sensor has temperature range from 32F to 572F
* 8 Programmable entree programs include beef, lamb, veal, hamburger, pork, turkey, chicken and fish
* Four doneness selections include rare, medium rare, medium and well done
* 2 Verbal and 3 audio alert options let you know the status of your meal; almost ready, ready and overcooked
* Main unit will receive the probe signal from up to 330 feet away (over a football field away!)
* Count up/down timer
* Customizable temperature alarm with audio alert
* Stainless steel probe detaches from sensor for easy cleaning
* Low battery indicator

HOW IT WORKS:
Step 1: After batteries are inserted, press reset button
Step 2: Place probe into the meat
Step 3: Select meat type and doneness level
Step 4: While meat is cooking, the probe wirelessly transmits the temperature reading to the receiver. Cook the meat until you hear four beeps and "It's done."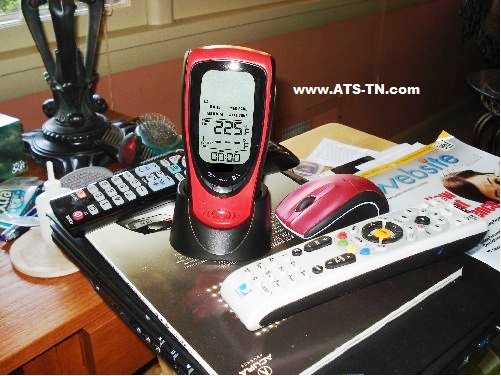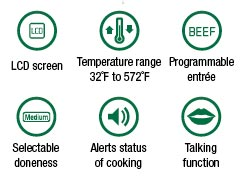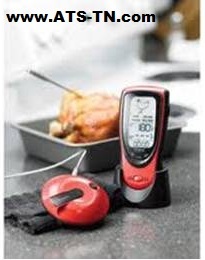 PRODUCT DESCRIPTION:
The main unit measures 5-3/5 x 2-3/4 x 1-1/2 inches
The remote unit measures 3-2/5 x 3-2/5 x 1-1/5 inches
The probe measures 7 inches long with 40 inches of cord.

CONTENTS:
Two AA Batteries for main unit
Two AAA Batteries for transmitter
Wireless Talking Thermometer (model AW131)
Wireless sensor
Stainless steel probe
Detachable belt clip/table stand
Operating instructions