Watch LIVE Video From Your Smartphone, Mobile Device or Computer. Talk and Listen to the camera from these devices also.
---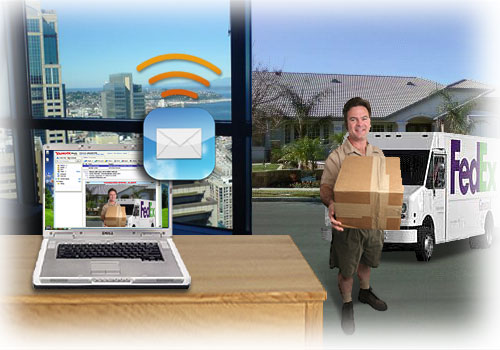 Email Notifications Can Be Received When Motion Is Detected.

Hear and Speak.
Hear what is going on through the built in microphone in the camera.
Speak through the camera (from your Smartphone or Computer's microphone) to anyone in the room where the camera is through the built in speaker.
GREAT FOR A DAYCARE, HOME OR OFFICE !

** Caregiver Use **

Is Your Homebound Loved One OK? How would you like to be able to look in and see LIVE, what is going on at your parents/loved one's home?

INDEPENDENCE:

Allow your loved one to stay at home and have independence. We all know that it is much physically and mentally healthier to stay at home than be in a nursing home or hospital, not to mention the high cost of out of home care.

SAFETY:

Keep an eye on your loved one. Talking on the phone only gives you a little feeling of safety. Watch your loved one 24/7 LIVE.

SECURITY:

You want to be able to be there but can't always. An internet video monitoring system could allow you to monitor your loved one and know they are ok and still keep them at home and not an expensive nursing home or hospital.

CONFIDENCE:

Are the caretakers taking care of them properly? Are they sleeping well? Did they fall?

PRIDE:
Have pride in knowing that you can take care of your loved one and provide them with independence, safety and security without having to be always be there. You may live in town or across the country. If you see something that is not right, you can call them or call for help.


*************************************
Back To Top Of Page   

You CAN DO THIS 24 Hours a day

See LIVE video - HEAR what is going on - TALK through the camera - Take Snapshots - Record Video - Review snapshots/video taken throughout the day.

Check in Anytime/Anywhere* (* internet access required)
NO MONTHLY FEES TO USE THIS SYSTEM.
What is required at the location of the Camera.
The camera will need to be plugged into electricity and have either wired or wireless Internet access. (High Speed Internet preferred)
What is required to view the Camera.
If you are viewing the camera locally (within the location as the camera) you can easily view the camera on a computer that is connected to the same Internet connection.
with the software that is supplied with the camera.
If you are viewing the camera from another location (outside the location of the camera), you can view the camera by using an Internet browser such as Internet Explorer or Firefox.
If you are viewing the camera from a smartphone or tablet you can download an app that will allow you to view the camera.

WHAT YOU GET

1 - Downloadable Software to control, view, hear and see what is happening on a computer or mobile device.

1 - Unlimited remote usage and access to your cameras over the Internet to view live video, control cameras, take snapshots, record video, view stored snapshots and video (Internet access required).

1 - Wireless Color pan and tilt remote controlled camera