---
This smoke detector has a very loud alarm. It also is packed with a bright flashing strobe light designed to get your attention.

This smoke detector is portable and with a bright flashing strobe that flashes at 60 strobes per second to get your attention when the alarm goes off.

YOU CAN HEAR IT and SEE IT !!!!!!

This unit is portable with a 9 foot extension cord so it is easily moved around.

NOT HARD WIRED - PORTABLE

Plugs into any standard power outlet.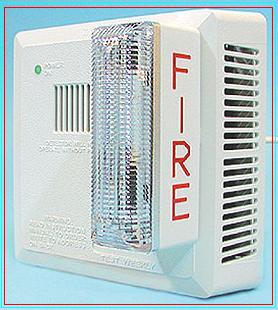 ADA Compliance:
The Americans With Disabilities Act Accessibility Guidelines (ADAAG) recommend any room or space required to have a visual signal shall be no more than 50 ft from the mounted signal. This portable solution will help hotels and small facilities follow the ADA guidelines.

---
Features:

9 ft power cord (no hardwiring is required)
9V battery backup included (audible alarm only)
Wall mount design with mounting hardware
Flashes 60 times per minute
90dB (at 10 ft) Horn - Pulsating audible 90dB horn (very loud)
Horn frequency 3100Hz
177 candela strobe light (very bright strobe light)
Full function test switch
Temporal 3 (T3) Evacuation sounding device
Visual LED monitor (condition indicator) that will pulse in normal standby mode and will remain solid in alarm mode.
Battery back-up and audible low battery chirp.
Flashing strobe light - flashes 60 times per minute.
Easy installation.
Not Permanently Installed.
ADA Compliant. Meets state, federal, and ADA requirements.

Specifications:
Warranty One Year Manufacturer's Warranty
Dimensions 5¼" L x 5¼" W x 4½" H

Professional Ratings:
Compliant with ADA regulations
UL listed
Compliant with ANSI 117.1
---
Reviews:
Great product Review by Tom

My daughter has a cochlear implant which needs to be in a dryer overnight and leaves her with just the strobe for the alert. But the simplicity of the product gives us all piece of mind when she sleeps in her apartment at college. (Posted on 12/26/2016)

---
Terrific Product Review by Marie

I bought this product once over ten years ago. After someone accidentally dropped and broke it, I decided to buy a new one. I heard that it is recommended to replace smoke alarms every ten years anyways. I have been happy with this easy to use product.

---
Very Helpful for Deaf family Review by Sandra S.

Now we can be at ease with the new alarm that is suitable for deaf. I had fire department chief to help us out with installing the alarm and where to put it that is best for us. We will order more in few months for other side of our house.

---
Excellent product Review by Kay

I am a 98 year old, deaf woman, who lives alone. My son easily installed the smoke detectors, and for the first time in years I have a smoke detector system that works for me.

---
Great product Review by Whitt

Has set our minds at ease knowing this alarm is in our sons room. He is deaf and has never been as comfortable as he is now.

---
So far so good Review by New Customer

Haven't had to use it yet....which is good!!! But the light brightness and the alarm loudness are pretty impressive. Prayers it wakes up our hearing impaired loved one IF the time ever arises.