---
What day is it today? You will never have to ask that question again with this Jumbo display.

Great for any room in the house; work room, bed room, kitchen, bathroom or home office.

With the black background the giant LED numbers are very clear and easy to see.

What a GREAT gift for a parent, someone with vision difficulties or anyone that wants a clearly seen clock with calendar. 

The big digital LED display provides this important information in a way that is so clear and easy to read they are sure to love it!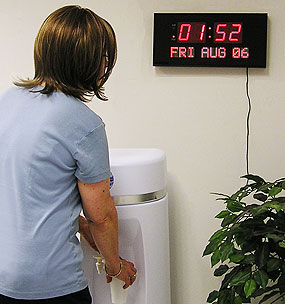 SPECIFICATIONS:

Over 15" wide
Can be hung on a wall or stood on a table.
AC Adapter easily plugs into a recessed outlet on the back of the clock so it will hang flat on a wall if you want.
Only 3 buttons are needed (on the back) to set the time and date the first time.
Bright display that shows the time (2¼" H) on top with with AM and PM indicator lights.
The day of the week and the date (1½" H) are displayed along the bottom.

Leap year compatible.

Dimensions 157/8" W x 7½" H x 15/8" D

Time display: 2¼" H

Calendar display: 1½" H

Product Weight 5 lb

Warranty 1 Year Limited Manufacturer's Warranty

AC adapter for 110V power
---
CUSTOMER PHOTOS: