---
Wi-Fi Smart Alert System FAQ:

Q. Does the system need a phone line?
A. No. This system works on a Wi-Fi system.
Q. What do I need to make this work in my home?
A. You will need WiFi (Wireless Internet) at the location where it will be used, and someone will need a smartphone to configure the initial setup.
Q. Do I need a smartphone in my home to use this?
A. No. The smartphone is only needed for initial setup and receiving the alerts. The smartphone could be carried by anyone outside the home.
Q. Do I need to buy all items for this system to work?
A. No. Each item can work separately.
Q. Can I use more than one item?
A. Yes. You can use as many as you want or need.  
Q. How do I get notifications?
A. You will get notifications through an app downloaded to your smart phone where ever you are.
Q. What type of batteries do they use?
A. The Wall Plug does not need any batteries. The Pull string and the Alert Button use AAA batteries (included).
Q. Is this system hard to set up?
A. No. You download the app to your smart phone, log into the app and pair the devices.
Q. What is the range?
A. The range is based on your Wi-Fi system. Typical home Wi-Fi systems will have an average range of 150 feet. Extenders are available to extend the range to hundreds of feet.
Q. How many can I connect to the app?
A. You can connect as many as you want.
Q. How Heavy is the Alert Button and Pull String Button?
A. The Wi-Fi Smart Alert Button is 2.5"x2" and weighs 3oz. The Wi-Fi Smart Pull String is 2"x2".
Q. How long will the batteries last?
A. The Wi-Fi Smart Alert and the Wi-Fi Smart Pull String batteries will last approximately 1 year.
---
Customer Review:
**** Best panic alert solution for my mom and me
I've invested in several types of personal panic buttons. Compared to the Bluetooth-based panic buttons, this WiFi-based Medical Alert Panic Button has worked out to be the best solution for me while watching over and caring for my mom. When we are at home, this panic button has a good and stable WiFi connection throughout the house, in the front yard, and in the backyard (Your results may vary depending on the WiFi coverage where you live.). When we are away from the house, such as out shopping, visiting neighbors, or visiting the local park, I set my phone to be a mobile WiFi hot spot and then connect the panic button to my phone. This has come in handy when my mom is not within eyesight or earshot of me. My Bluetooth-based panic buttons didn't have the range as this WiFi-based panic button does. --- D. Tam Lung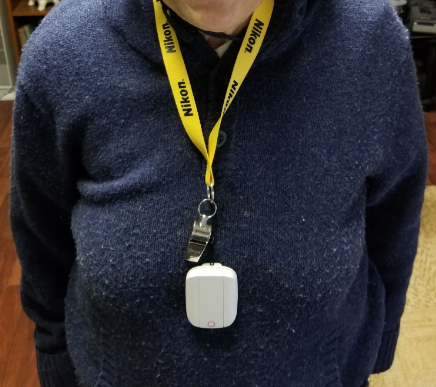 ---
Customer Review:
"The button works perfectly. Immediately sent alerts to cell phones. Easy to set up. Plus when I messaged the company about a lanyard, I had a reply within 5 minutes! They are shipping one out to us by the next business day. So impressed!"
---
Customer Review:
"Thank you for creating a solution for me. Being a caregiver has it's blessings.. and this is a blessing to me. Now I know when mom needs me wherever I am, 24/7 and I don't have to pay each month. --- J. Lunok

---

Customer Review:
"Takes care of my problem. I have no phone line. Now I can get help without having a phone line" --- Earl M.

---

Customer Review:
"I like how it alerts my phone and rings the wall alarm in the house so Dad knows if Mom needs help" --- Tracy. A.
Click to submit your Review for the Wi-Fi Smart Alert System!
---
---