Why is this so special?
This phone is unique because it is always listening. Other voice activated systems require the user to press a button to activate the listening function.
This system is always listening and ready.
---
KEY FEATURES

Voice Dialing (Totally hands free DIAL, ANSWER and END calls by voice command)
17 Voice Memories (Store 17 Frequently called numbers so you can dial them by name)
80 Incoming CID (store the last 80 numbers that called you in memory for review)
Talking Caller Id Number
Review the last 80 Numbers that have called you
Delete the numbers in your call list
Dial-back the numbers in your call list
LCD display with 2 lines (16 characters per line - 2 lines of display)
Handsfree Speakerphone function (high quality loud speakerphone)
Redial / Pause function (redial last number dialed and insert pauses in dial string)
Flash function (100ms 300ms or 600ms) (settings for some older phone lines)
Vocal prompts (that can be turned off)
Memory Backup for Life (never worry about losing your settings)
Visual Ring Indicator (you can see the phone ring)
Power Failure Protection
Menu Lock Function (prevent unauthorized people from changing your settings)

A/C Adapter (110v - 220v accepted - for 220v power just add plug adapter)
40db Handset Volume Max (loud adjustable handset volume)
Talking Caller ID (Voice can be turned off)
Talking Keypad (Voice can be turned off)
911 Key (Programmable to any number)
Wall Mountable
Ringer off/low/high switch
Handset volume lo/mid/hi switch
Handsfree volume control
PURCHASE OPTIONS:
---
Regular Retail Price $319.99
Our Price
ONLY $249.99 +Shipping
---
Click to Download Brochure and Order Form
---
Dealer / Bulk Order Pricing Available !
Click the Contact Us link to request information.
---
What's Included:
Everything you need is already included.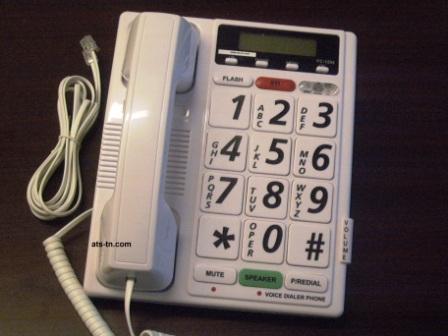 Telephone Base, Handset, Handset Cord, Telephone Line Cord, 110v AC Power Supply, Instruction Manual, 1 Year Factory Warranty.