---
Cordless Floor Pressure Mat FAQ:
Q. What size is the Wireless Receiver?
A. 5 inches tall, 3.75 inches wide, and 1.5 inches thick.
Q. What size are the sensor pads?
A. Both mats are 24x36.

Q. What type of batteries does this use?
A. The receiver uses 3 'C' cell batteries (not included). The mat uses a battery pack (included).
Q. How often do I change the batteries?
A. The receiver batteries should be changed every 5-6 months (based on usage). The transmitter and battery pack for the mat should be changed every year.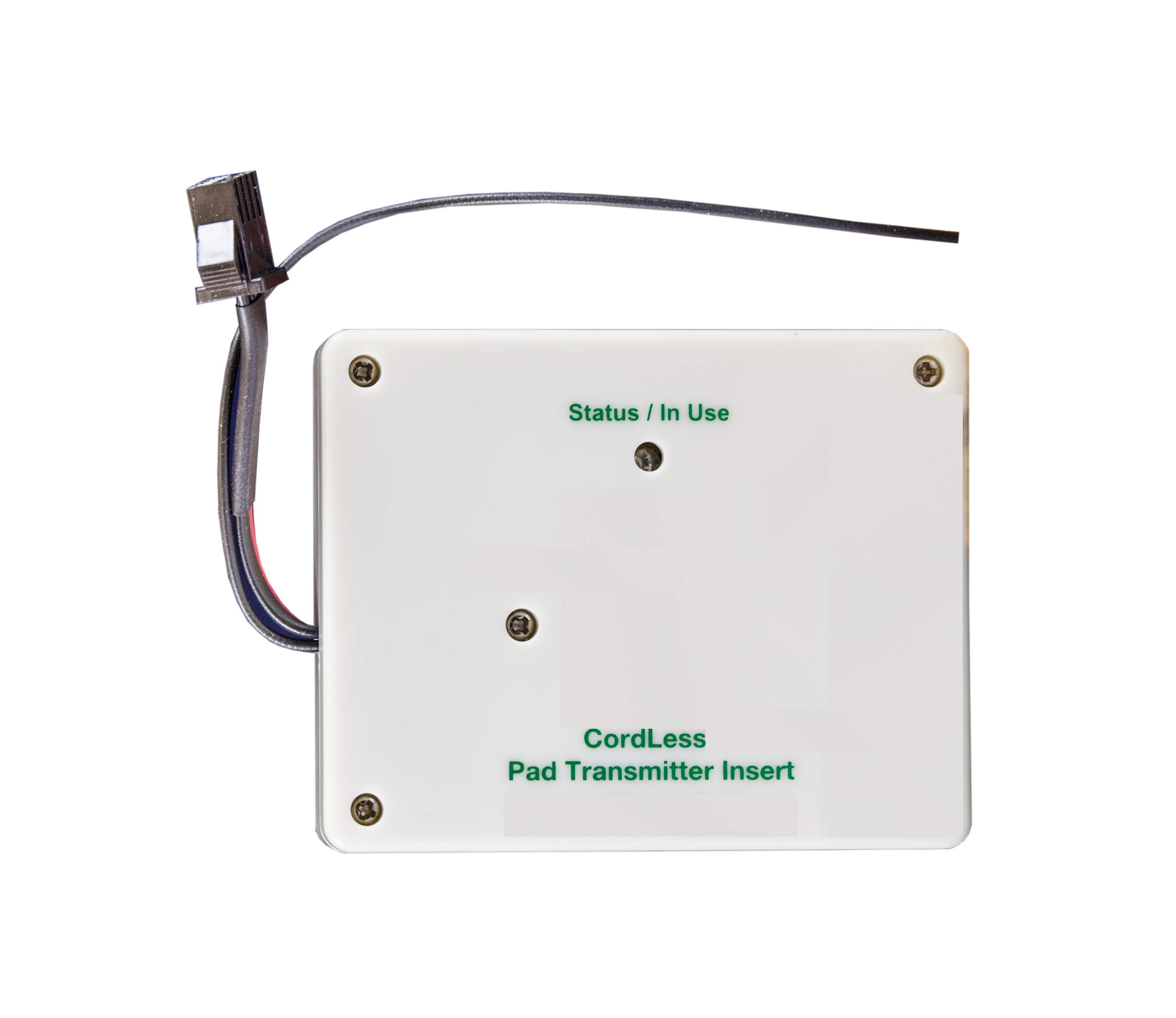 Cordless pressure mat transmitter and battery pack ATSTMFM $49.99 U.S. + Shipping/Handling

Q. Does the Cordless Floor Pressure Mat come with a warranty?
A. Yes. There is a one year factory defect warranty.

Q. Can you hang the receiver on the wall?
A. Yes
Q. Can I use this system in Canada?
A. Yes, this unit will work in Canada.
Q. Can I use this system around the world?
A. Yes, you can use this unit anywhere in the world.
Q. What is the range from the mat to the receiver?
A. Up to 300 Feet.
Q. How many mats can be used with one receiver?
A. Up to 6 mats can be paired to the same receiver.
Q. Will my dog stepping on it set it off?
A. Most likely not. Any animal under 30 lbs. will not activate the pressure sensor.
Q. Can I place another rug over the mat and will it still work if I do?
A. Yes. Most rugs placed over the mat would not interfere with the sensor.
Q. Can I use the mat outside the shower and can it get wet?
A. Yes, the mat is water resistant but not waterproof. It should not be submerged underwater.
---
Customer Comments:
This is the best thing I ordered and love it and it serves the purpose beautifully. I got this for my mom who has alzheimers and she would get out of bed and go wondering around the house in the dark and I was afraid that I wouldn't hear her movements and had a hard time sleeping. With this I know exactly when she gets up with the alarm in my room and can go see if she is alright or what she needs. People with elderly parents should get this. It will give you peace of mind. ------- Carmen K.
------
SO worth it! Mom sundowns and gets up in the night and wanders around the house. Without it I tried to sleep with one eye (and ear) open.
After she fell in the laundry room, wandering, and we didn't find her until morning we had to figure out something better.
This changed everything. I put the mat on the floor next to her bed, and the monitor on my night table. When she gets up, I know immediately.
She doesn't even seem to know (or, perhaps, think about) how I immediately show up when he starts to get out of bed. ------ PLC
-----
My dad can get up to use his bedside commode, so we put the mat just past it. If he gets up and is confused and thinks he can walk, it triggers the alarm on the pager & I can run in there before he falls. It's wonderful to be able to be in other rooms in the house, and even on the back porch, carry the pager (which has a clip so you can attach it to your pants) and get things done without having to constantly go to his room & check on him. It is really a wonderful product,! -------R. P. Smith
-----
This floor mat and pager have REALLY made a difference by helping us sleep better with less worry. We were only using a baby monitor to begin with and was up and down all night to check on my mother. My mother had a stroke affecting her balance and has made her Dementia worse. Since purchasing the mat , we are able to get to her room before she stands up. The pager allows me to be in another room and does not scare her when it goes off. I love this mat and pager system, being a Physical Therapist Assistant, would recommend this to any of my friends or patients ----- Donna H.
------
It has made a world of difference. I am able to sleep between rings and I can take it outside if I am watering the yard during the daytime. I highly recommend this mat! ---- Marleen E.